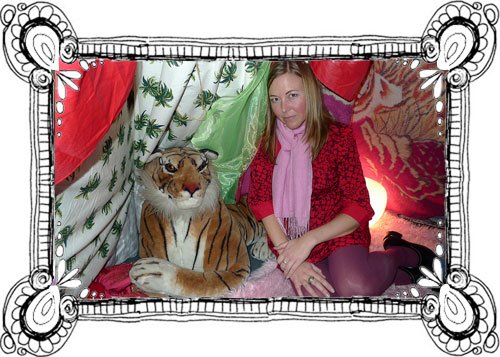 People bandy about the words "tireless" and "inspirational" all too easily, which means when you finally run across someone who truly is these things—Alissa Walker, for instance—they lack the necessary punch. But consider this: here is a woman who not only dreamed up a whole new career for herself doing exactly what she loved (and in a "dying" industry in a down market), but did it while walking through Italy, eating ice cream. And then brought said fantasy career to fruition in less than three years. In Los Angeles. Without a car. While hosting frequent gatherings featuring foods grown from her own garden, and in between volunteering for local causes, running marathons, making crafts, and walking an entire extra city besides her own. We may need to invent entirely new words to describe her. That, my friends, is the power of focus and a cheery outlook combined with a fine, Midwestern work ethic. If you need a quick infusion of "anything is possible," look no further than Alissa Walker, everyone's favorite writer-superhero.
When did you decide to become a writer?
Now that I think about it, I have always considered myself a writer, although in my very early days, it was as a writer-slash-actress-slash-extremely bossy director of "films" that I made with my siblings and neighbors and a Sony HandyCam. I loved making commercials, so these years of experience culminated in a short-lived and mostly-miserable career in advertising. So then I took a non-writing day job and tried writing stories about people who I found to be interesting, mostly creative people. Eventually, about six years ago, I would say I officially decided to become a writer when I decided to go freelance full-time. I decided this while eating gelato five times a day in Italy, and the rest is Gelatobaby history.
Who was your favorite teacher?
I have been very, very lucky to have so many great teachers throughout my career. But I am going to say my first grade teacher Mrs. Jennings because she seemed to see and encourage this writing thing at that very early age. I recently found two report cards from first grade where she specifically mentions these little construction-paper books that I was writing and illustrating on my own (most of the time when I was supposed to be doing other work). She also says this: "At times she gets caught up in her words and she has difficultly accurately expressing herself." Wow, she REALLY knew me, even at six!
What do you love to write about?
True stories that are so poetically unbelievable, so fraught with twists of coincidence and fate, so laden with maddening characters, that they couldn't possibly be made up.
What has writing taught you?
Especially writing for blogs, day after day, I have learned to stop agonizing over every single godforsaken syllable in a way that would make my eyeballs start to vibrate. I have learned that it can never be perfect—sometimes it just has to be good enough so it can get out there and start doing what really matters, which is making people think.
How has writing made you stronger?
That is a great question! I think that becoming a writer has helped me become a more confident person. When I want to reason something out to myself, or get up the nerve to talk to someone, I sit down and pound out a few sentences to figure out what I really think. It works.
If you could go back in time and tell 10-year-old you anything, what would it be?
Dude, first of all, you're getting a little old for the Little House in the Prairie thing. And next year? When you start thinking about getting a perm? Don't.
What are your five favorite books, blogs or things to read?
1) I'm going to steal Erika Hall's answer. Twitter has been a magical, transformative writing place for me. I love editing my ideas down to 140 characters. I love the comedic timing of hashtags. I love learning about the world through the lenses of my friends. I love that I've got this outlet for sharing my work that's such a supportive, smart community. I LOVE YOU TWITTER!
2) I read every single Jonathan Gold review and if you consider yourself a writer, you should, too.
3) I just read "The Junket," a Kindle Single by Mike Albo, the freelance writer who got fired by the New York Times for going on a travel junket. What's awesome is not only the writing, but the way that he is turning his rant about old media into a way to make new media money. So buy it for $1.99 and support entrepreneurial journalism.
4) I almost always read nonfiction books, some of which are about Los Angeles, and the rest of which are about people who live in Los Angeles. But I also usually have a book of short stories around to read like little fiction palate cleansers that can whisk me away from reality. I tried reading Miranda July's "No one belongs here more than you" in little bites like that and ended up devouring it in about 12 hours.
5) My dear friend Colleen's blog communicatrix. Maybe you've heard of her? She's doing this amazing 50 by 50 thing? She also has a really great blog that provides both brain food and belly laughs daily. That is not an easy thing. She is my hero. Oh, hey, Colleen, I didn't see that you were still here.
Alissa Walker is a writer, a gelato-eater and a walker in L.A. As a freelancer she has written about design, architecture, cities and transportation for many publications, including GOOD, Fast Company and Dwell, and is the associate producer for the public radio show "DnA: Design and Architecture." In 2010, Alissa was named as a USC/Annenberg Getty Arts Journalism Fellow for her writing about design and urbanism. She lives in a royal blue house in the Silver Lake neighborhood of Los Angeles, where she throws ice cream socials, tends to a drought-tolerant garden, writes infrequently on her blog, Gelatobaby, and relishes life in L.A. without a car.